Zhao Zilian, a villager in southwest China's Chongqing Municipality, used to be mired in grinding poverty. But, thanks to poultry production her state of life had constantly improved.
However, in recent days, a new menace threatens her efforts to shake off poverty -- floods.





Days of downpours have caused flash floods in the mountainous village of Dusha, Zhao's hometown, and inundated the fish-breeding pond in the village. Roads and crops were flooded.





"I heard the village officials beating washbowls to raise alarm in the middle of the night, and I rushed to drive the chickens and ducks to high areas," she said. "But the pouring rain still washed away more than 10."





China has entered its rainy season, and torrential rains have triggered flood warnings since June in several parts of southern China. The natural disaster has inflicted severe damage and the resurgence of poverty looms large among many households.





Chinese authorities are adopting several measures against the floods to make sure people stay safe and away from the bites of poverty again.





China plans to eradicate absolute poverty by 2020.





The State Council, China's cabinet, issued a notice in late June, calling on the authorities to strengthen supervision and help those who have slipped into poverty and those prone to poverty due to floods and geological disasters.





"It breaks my heart to see the damages caused by the floods," said Zhao Zilian. "But I believe we will win the war against floods, and we will not bow to poverty again."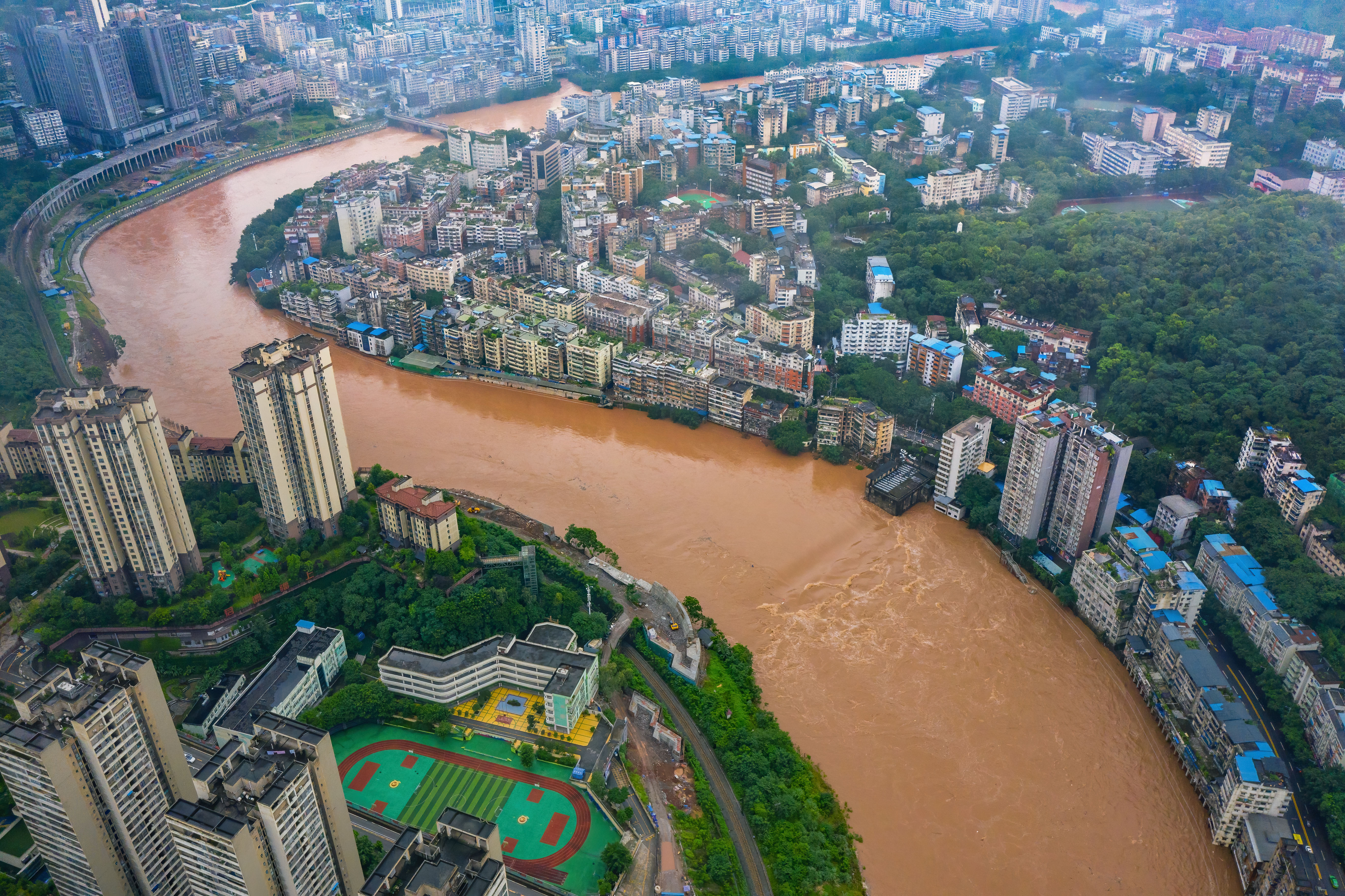 Aerial photo taken on July 1, 2020 shows Qijiang River's flood water in Qijiang District of Chongqing Municipality, southwest China.(Photo by Chen Xingyu/Xinhua)
DAMAGES FROM TORRENTIAL RAINS, FLOODS





Heavy rainfall and floods have wreaked havoc in many areas in China, causing headwinds for China's anti-poverty efforts.





In the village of Sanjiang, in Chongqing Municipality, flooding toppled about 67 hectares of corn plants, with their roots plucked out.





"The flood was very powerful, and the water just flew into the fields by the banks of the Yujiang River," said Hu Xiaobing, a village official.





Since late June, heavy rainfall caused the river water to rise significantly, and it soon inundated the crops along the banks.





"The water completely engulfled the fields," Hu said, adding that even trees more than 10 meters high were submerged, with only the top portion of the shoots protruding out of water.





After the floods subsided, the corn plants were found in a rotten state because they stayed underwater for too long.





"Even we help the plants stand up again, they will die," said Ran Maowei, a villager. "The tender corns stink. Even pigs we raise don't eat them, not to mention people."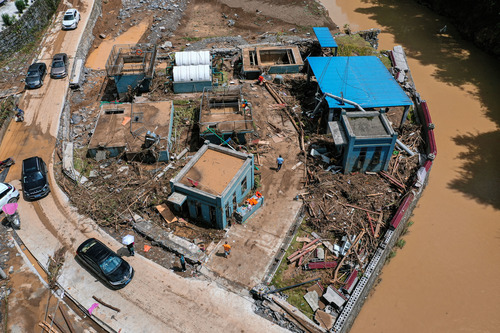 Aerial photo taken on June 13, 2020 shows houses devastated by flood in Bifeng Town of Zheng'an County in Zunyi, southwest China's Guizhou Province. (Xinhua/Liu Xu)
In southwest China's Guizhou Province, continuous rains battered a company that manufactures spring water products in the village of Guakou. The company employs many poor villagers to help them cast off poverty. Village official Zhou Minhua has been leading workers to help clean the sludge and check the condition of machines in the workshop.





"It will take about half a month for the company's operations to return to normal," Zhou said.





In the county of Guzhang, central China's Hunan Province, downpours have toppled or damaged 50 houses and destroyed more than 140 hectares of crops, with direct economic losses exceeding 15 million yuan (2.1 million U.S. dollars).





China's national observatory on Friday renewed its yellow alert for rainstorms, as incessant downpours continued to wreak havoc across vast stretches of the country.





The National Meteorological Center has advised local authorities to remain alert for possible flooding, landslides and mudslides, and recommended halting outdoor operations in hazardous areas.





EFFORTS KEEP POVERTY AT BAY





To prevent floods from hampering China's anti-poverty campaign, authorities are implementing powerful measures.





In Guizhou's Jiangkou County, local authorities have relocated some flood-affected poor residents into a resettlement area in the county. The Fanrui residential compound houses 9,807 people from various ethnic groups.





Villager Zhang Lianghua and his family, all on the poverty list, have relocated to the community. His house was severely damaged in the natural disaster and is barely livable now.





"They have purchased domestic utilities such as a washing machine and a water dispenser," said Zhang, 38.





In Chongqing's Pengshui, county officials have dispatched staff to help discharge floodwater, fix damaged crop-fields and help inundated plants recover. Meanwhile, they have applied for more funds to help impoverished residents regain ground. Insurance companies are also paying them.





"As many farmers have purchased insurance policies beforehand, their losses can be covered," said Hu Xiaobing, a village official. "Each farmer only paid 9 yuan, and the government has subsidized 27 yuan for each of them. The insurance company pays each farmer 9,000 yuan for a hectare of crop-field."





The local government has organized farmers to reap harvests from the undamaged crops to minimize losses, and helped them grow new ones.





In Hunan's Guzhang County, local officials have sent teams to help assess property loss in the flood.





Shi Shuiqing, a deaf and mute resident in the village of Shibi, had prepared 87 wood logs to build a cowshed. All the materials were washed away in the flood. Officials and local residents have helped him retrieve the logs.





Some locals were evacuated after the flood befell.





"I feel safe. Thanks to the officials for the help," said Huang Weimin, a villager. "I am relieved." Enditem