Championship trophy of the FIFA World Cup. /CFP
FIFA will launch a feasibility study on the Saudi Arabian Football Federation's (SAFF) proposal of holding both the men's and women's World Cup every two years.
"It doesn't matter right now what I think, it matters what results the study is coming up with," said FIFA president Gianni Infantino. "We have to go into this study with an open mind... we know about the value of the World Cup believe me, we know as well about the impact that the World Cup can have."
SAFF made the proposal in the FIFA Virtual Congress meeting on Friday and the proposal passed in a vote participated by member federations with 166 in favor.
"We believe the future of football is at a critical juncture. The many issues that football has faced have now been further exacerbated by the ongoing pandemic," said SAFF president Yasser Al-Misehal. "It is time to review how the global game is structured and to consider what is best for the future of our sport. This should include whether the current four-year cycle remains the optimum basis for how football is managed both from a competition and commercial perspective."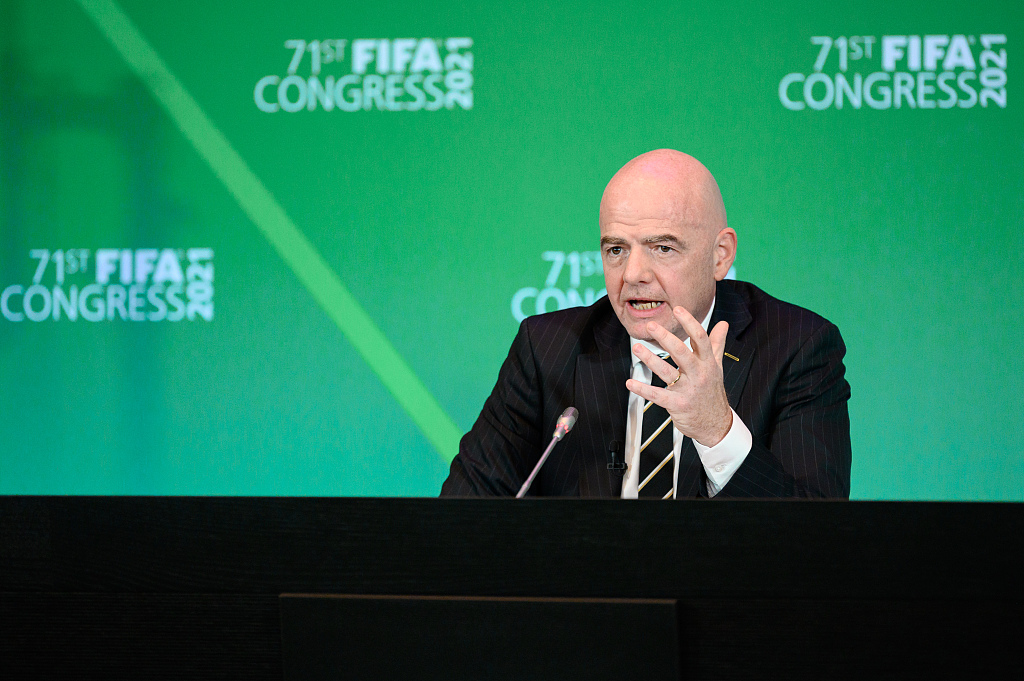 Gianni Infantino, president of FIFA, speaks at FIFA Virtual Congress meeting at the Home of FIFA in Zurich, Switzerland, May 21, 2021. /CFP
The World Cup currently happens once every four years and it does not have to encounter other top global sports events like the Summer Olympics, the UEFA European Championship or Copa America. Meanwhile, the schedule for the World Cup qualifiers is long and loose so players of the national teams can catch their breathe amid the already extremely tight schedule of the club competitions.
If the World Cup is held every two years, schedules of many other global events will have to change to make way for the World Cup. Players' workload will definitely grow, leaving them more vulnerable to injuries.
Infantino in his first year of FIFA presidency added 16 more teams and games to the World Cup from 2026 in the U.S., Canada and Mexico. Later he expanded the Club World Cup into a 24-team tournament. UEFA, which runs other top football events in the world like the European Championship and the Champions League, does not like the new model for the Club World Cup, claiming that the it lacks consultation in regard to the congested global calendar and financial plans for the new tournament.
So far the European football governing body has not said anything about the biennial World Cup idea.
The next World Cup is taking place in Qatar between November 21 and December 18 in 2022.