Editor's note: CGTN's First Voice provides instant commentary on breaking stories. The daily column clarifies emerging issues and better defines the news agenda, offering a Chinese perspective on the latest global events.
On Friday, the World Health Organization (WHO) approved China's Sinopharm COVID-19 vaccine for emergency use, the first Chinese vaccine to achieve such a certification. Although already used widely around the world, the approval clears the way for it to be used in the COVAX vaccine sharing program for developing countries, streamlines its approval within the European Union and also clears obstacles for those who have been vaccinated with it to participate in the EU's vaccine passport scheme.
Over the course of the last few months, many Western news organizations and individuals have sought to intentionally seed politically motivated distrust in China's vaccines, manipulating data and attempting to undermine their global reach with the goal of geopolitics.
However, Sinopharm is a reliable product that has made a decisive difference and lifeline to many countries which have not been able to procure Western vaccines easily. It also allows some countries to decisively cut ahead of the curve. Set to be jointly produced by several countries including Argentina, Serbia and the United Arab Emirates, the vaccine will play a pivotal role in overcoming the pandemic.
Morocco: a Sinopharm success story
Thanks to Sinopharm, Morocco is the most vaccinated country on the African continent. Having already vaccinated more than 4 million people – 12 percent of its population, the impact of this vaccine and the government's successful rollout has dramatically turned the tide of the battle against COVID-19.
Since the end of last year, the 7-day average of new cases has fallen from around 5,000 to just 300, with deaths from around 80 to below 5.
Similarly, in Hungary and Serbia, swift access and rollout of Sinopharm has allowed both countries to vaccinate faster than other EU members and subsequently flatten the curve on second waves. Sinopharm has made a crucial difference for many countries in the fight against the virus.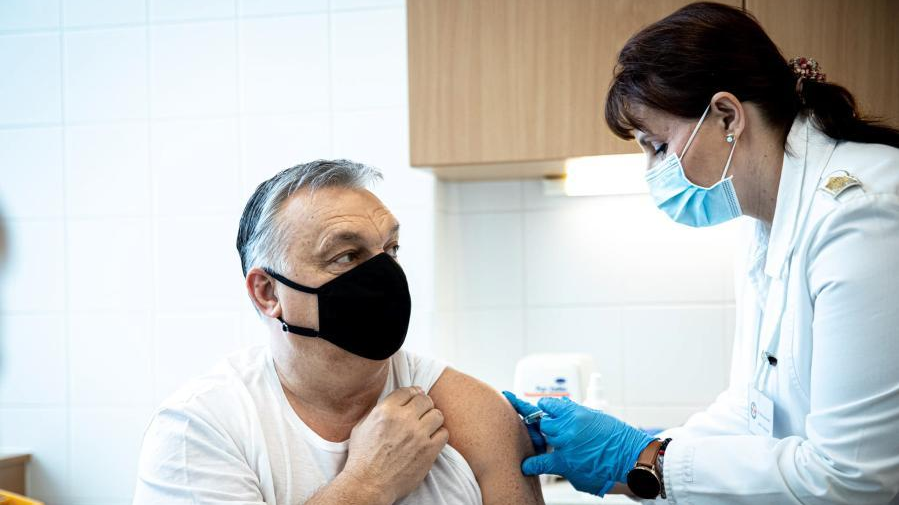 This photo from Facebook page of Hungarian Prime Minister Viktor Orban shows him receiving a dose of China's Sinopharm vaccine against COVID-19 in Budapest, Hungary, February 28, 2021. /Xinhua
COVAX: A lifeline program
Sinopharm's approval will help spearhead the multilateral COVAX effort, a program that has sought to donate vaccines to poor countries struggling with their own procurement.
The crisis in India, for instance, has created delays in the COVAX supply after the country placed a temporary hold on all exports of AstraZeneca vaccines. But the WHO decision on Chinese vaccines helps to alleviate the situation. Sinopharm provides a safe, reliable and more effective alternative stemming from China's more resilient supply chains.
Whilst the use of AstraZeneca has also been restricted in many countries due to concerns over the risks of causing blood clots, Sinopharm does not yield such risks. This allows the multilateral vaccine sharing drive to get back on track.
A good day in the fight against COVID-19
As a result, the approval of Sinopharm is arguablya game changer not so much for China, but very much for the rest of the world. Never have the international community needed access to vaccines so urgently, especially when new and dangerous variants are constantly evolving.
Many countries are simply not able to wait around for the West's "leftovers." They need them now. The Biden administration's patent proposal for one is expected to take months to complete, according to Reuters.
Therefore, Sinopharm – effective and easier to procure, with proven results in the countries that have used it – will continue to serve as a keystone in making a difference in helping gear herd immunity. It's time to put political biases aside and recognize its contribution.
(If you want to contribute and have specific expertise, please contact us at [email protected].)