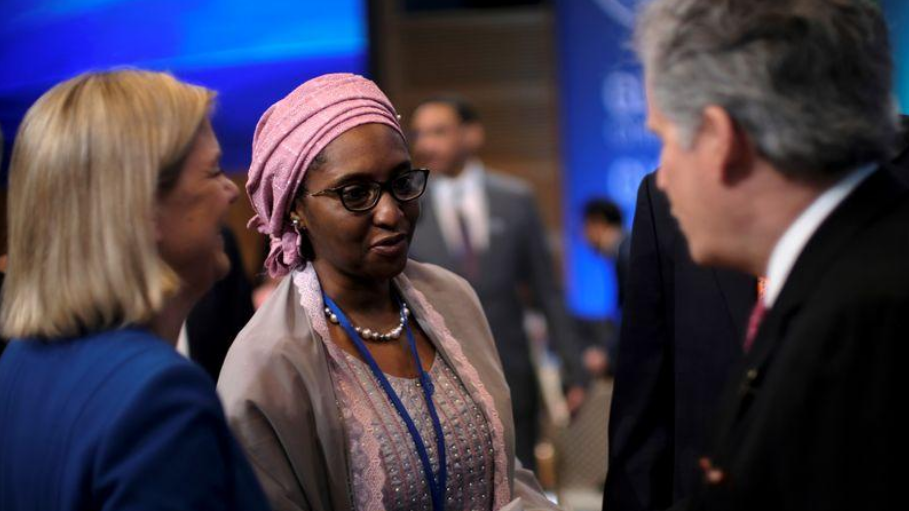 FILE PHOTO: Nigerian Finance Minister Zainab Ahmed attends the IMF and World Bank's 2019 Annual Spring Meetings, in Washington, U.S. /Reuters
Nigeria's Minister of Finance Zainab Ahmed announced that the government will reduce the size of its budget in the wake of a drastic decrease in the price of crude oil.
Ahmed, who spoke on Monday in the capital Abuja, said that a committee will meet soon to agree on what the size of the reduction of the budget will be and consider the benchmark crude oil price of $57 a barrel used to calculate the budget.
The committee will comprise Ahmed, the Minister of State for Petroleum Timipre Sylva, the head ofstate-run NigerianNational Petroleum Corporation(NNPC) Mele Kyari and the Central Bank Governor Godwin Emefiele.
In December 2019, Nigeria passed a record 10.59 trillion naira ($35 billion) budget for 2020 which assumed crude production of 2.18 million barrels a day and an oil price of $57 per barrel.
In February, the International Monetary Fund reduced Nigeria's 2020 growth forecast by 0.5 percent to 2 percent, due to lower demand for oil amid fears that the on-going coronavirus outbreak in China will cause a slowdown.
The news is a blow to President Muhammadu Buhari, who made a pre-election pledge to revive the Nigerian economy and diversify it away from its heavy reliance on oil in his second term.
Source(s): Reuters